We are happy to announce the certification of ARMOR Brazil facility – located in Manaus – by GPTW (Great Place to Work), with a score of 93 out of 100! This demonstrates the positive perception of the Brazilian subsidiary's employees regarding the quality of workplace and organizational culture.
To achieve GPTW certification, the organization had to conduct a Trust index survey that includes 64 closed-ended questions, 2 open-ended questions and 7 demographic questions. All employees were invited to complete this survey. In order for the company to be certified, at least 70% of the respondents had to give a positive opinion of the organization.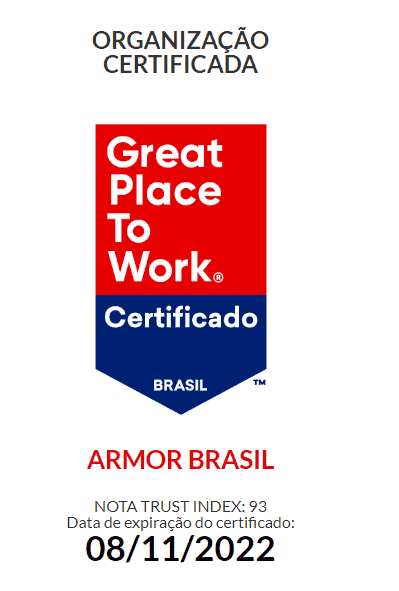 This survey accounts for 85% of the final assessment, followed by the Culture Audit, a file of 15 open-ended questions submitted to a dedicated GPTW team that assigns a score.
The results of the Trust Index and the Culture Audit of ARMOR-IIMAK Brazil were very positive and allowed the subsidiary to obtain the certificate with 93/100! This certification is awarded for a period of 12 months and is accompanied by a certification stamp that ARMOR-IIMAK Brasil can use in its communications.
Finally, ARMOR Brasil is now eligible for the "Best Companies to Work for" ranking! We wish them good luck!
Need more information?
Do not hesitate to contact one of our representatives